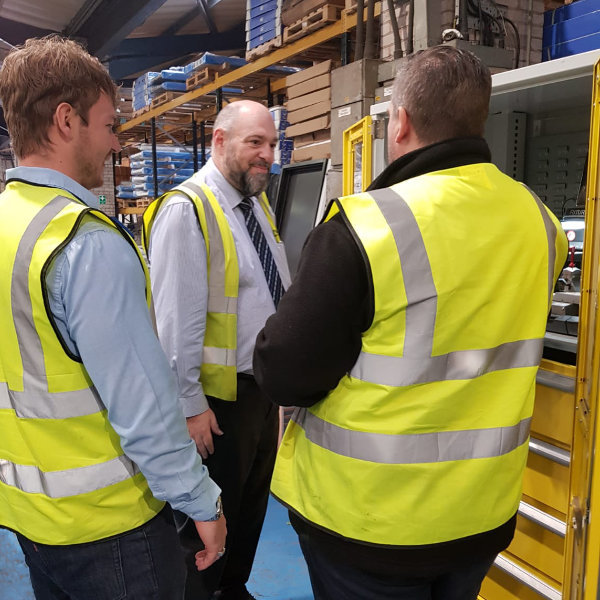 Prestigious Visit Recognises Business Success for Latham's Steel Doors
04 Jun 2019
Published in: Member News
---
Latham's Steel Security Doorsets Ltd have opened their doors once more, for a prestigious visit from Jan Britton CEO of Sandwell Council. In an event arranged by Bid Sandwell, Jan chose three companies to visit in recognition of their significant growth and investment in the region.
---
In recent months Latham's has undergone a period of substantial expansion investing over £500,000 into creating new and expanding existing facilities at their Tividale site, generating multiple employment opportunities with the workforce increasing from 9 to 37 members of staff. With the opening of a brand-new showroom, purchase of additional warehouse space and with the imminent launch of sister company Lathams Hardware new e-commerce website, the company are continuing to go from strength to strength.
As CEO of Sandwell Council, Jan Britton is always keen to step into the community and see for himself the business culture within the Sandwell region. Speaking during the visit, Jan said "I was very pleased to visit Latham's Security Doorsets last week. It was good to see a top-class Sandwell company in action and to understand how the business has grown, and continues to grow, so strongly. Sandwell Council is very interested in the success of local businesses and the more we understand about the needs of business, the more we can help." Speaking of the event, Managing Director of Latham's Alex Latham said, "We're extremely proud to have been selected for a visit from Jan Britton. We've worked hard to continue investment and growth in the company, and it's great to have the opportunity to share our story".
During the visit, Jan was accompanied by Geraldine Thomas and Pat Parkes from the Bid Sandwell Management Team on behalf of Albion BID Co. Limited. Albion BID provide additional funding for specific development and improvement initiatives in the Oldbury and West Bromwich areas. They were on hand to offer their continued support to Latham's during their period of expansion so it was a good opportunity to highlight the positive impact the scheme can have on businesses in the area.
A family owned company, Latham's Security Doorsets Ltd are the UK's leading supplier of steel security doors, specialising in competitively priced, industry leading security doors. Established in 2008, Latham's Security Doorsets Ltd have continued to be at the forefront of innovation offering a wide range of steel doors and the largest selection of doors in stock available for immediate collection or dispatch. Suitable for Residential, Commercial and Industrial use, Latham's now supply over 10,000 doors per year. In addition to Steel Security Doors, Latham's also supply a range Fire Exit Doors, Fire Rated Doors, Glazed and Louvred Doors. All doors feature customisable options including a range of colours, security upgrades, glazing, louvres and access devices available for manufacture and installation at the Oldbury site.
To find out more visit www.lathamssteeldoors.co.uk
Submitted by Emma from Latham's Steel Security Doorsets Ltd