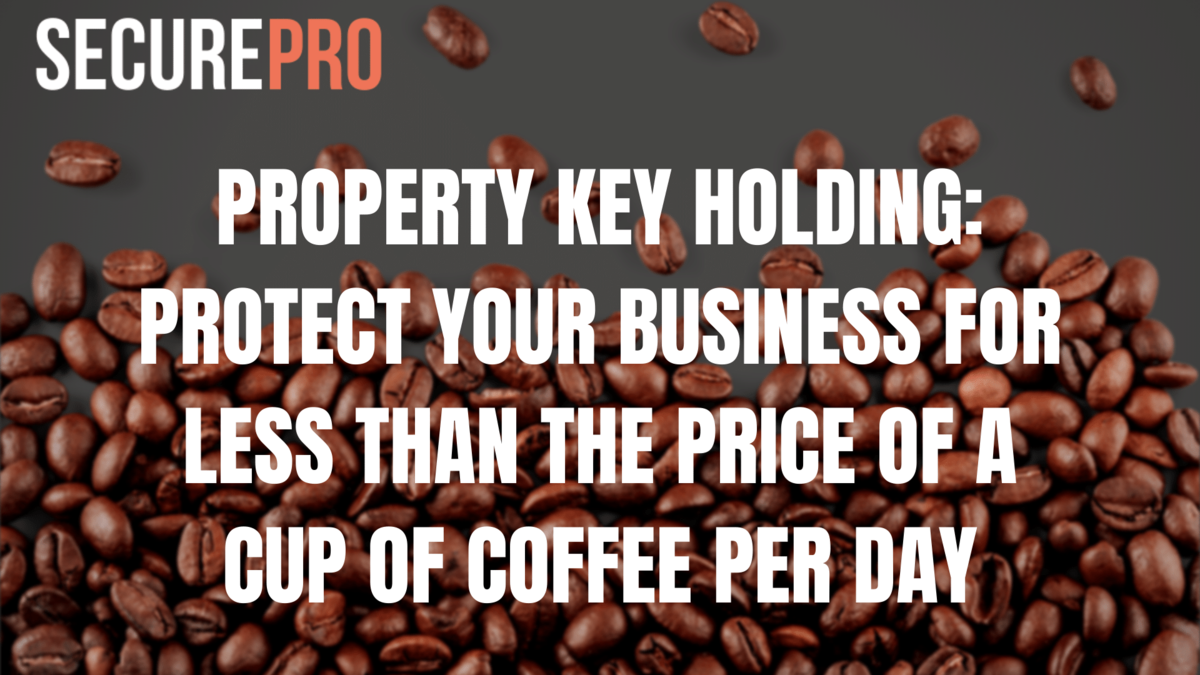 Property Key Holding: Protect your business for less than the price of a cup of coffee per day
16 Oct 2020
Published in: Member News
---
Many people think security services and systems are expensive, only available to the blue-chip companies of the world or giant conglomerate organisations with huge budgets. This couldn't be further from the truth and we are here to tell you why.
---
Key Holding Services Stourbridge
For as little as one Great British Pound per day (sometimes less) a professional key holding company like SecurePro can hold your keys in our secure manned security control room. Your keys will be uniquely tagged and stored in a locked safe and each time they are required for use a stringent process is followed where they are signed in and out by an experienced licenced SIA Security Officer, a key register is populated and a key audit is completed by a duty manager. This entire process is also insured in the unlikely event of loss of keys. All this for a pound a day, sounds too good to be true doesn't it? Well it doesn't stop there, property key holding is our speciality but what use is it for someone else to hold your keys, where is the value for money?
Imagine working a 40 plus hour week, taking annoying calls in your down time, interrupting your movie night repeatedly but then you finally get to sit down to a nice evening meal and a glass of wine or a couple of beers. Then once again the telephone goes, the alarm has gone off at work and you have to go and reset it. You know you've had a drink and shouldn't drive but it's only a glass of wine you'll be alright won't you, it's only a couple of miles down the road? The reality is you shouldn't drive, at the very least you should get a lift or a taxi but that is going to take longer too, imagine if the alarm activation is a real intruder you want to get there as soon as you can, right?
So, let's carry this story on, you get to your business somehow avoiding the police and a drink driving charge. When you arrive you see the door is smashed and it is a real burglary, you call the police and even though they tell you not to go in you do anyway because all your personal belongings are inside as well as the important work you left on your desk. You find an intruder and you get into a physical altercation with them. Now this is where you really start to see the added value of using a key holder alarm response, under the Health and Safety at Work Act 1974 the landlord, tenant, occupier, business owner or person immediately in charge of the property has a duty of care to everyone on the premises both lawfully and UNLAWFULLY. This means the burglar has rights too. You can't assault them; you can't hold them there against their will and you certainly can't claim self-defence as you have consumed alcohol in the last twenty-four hours so under the Criminal Law Act 1967 your 'defence activities' are invalid. What makes this situation worse is you aren't covered by your insurance either if you slip, trip, fall or suffer any other injury in the workplace because you are attending the property 'out of usual business hours.'
Let's go a little deeper into this story now, you arrive at your business premises and there has been a break in, there is no intruder as they have made good their escape. You go inside to see what has happened and discover items are missing so you naturally telephone the police. Upon their arrival they smell alcohol on you and ask how you got here; do you see where we're going with this? What is even worse is you aren't trained in crime scene preservation either so any evidence that was left behind is now contaminated by your presence so any chance of finding out who did it and bringing them to justice is getting slimmer and slimmer by the second, wouldn't it have been better to stay at home and have another glass of wine instead?
These are obviously worse case scenarios and you would have to be seriously unlucky to fall foul of all of them, but is it really worth the risk when you can use a security guard company to do it all for you?
Key Holder Alarm Response
Following on from the above story, our expert alarm response security guards are trained, insured and experienced in responding with your keys to go and deal with all out of hours problems. We are an experienced property security services company so we know how to Respond, Repair and Report, so unless your property is on fire or flooding the first you know about it is the following morning when you receive our detailed report that you can submit to your insurers should you need start a claim.
Our professional security officers are not only trained in crime scene preservation, conflict management and physical intervention, they are licenced by the Security Industry Authority and fully insured to be on your premises day or night. They are tracked using geolocation software for their own health and safety and lone working which means by using us you can reduce the risks to you and your employees whilst remaining legally compliant by outsourcing the key holding and alarm response responsibilities to a professional security company and prevent any future litigation against you.
Background
This story is not meant to scare monger you or play on your fears it is actually based on a true story of one of our long-standing clients. A members only social club used a retired 74 year old committee member as their key holder as he also did the maintenance and odd jobs around the club; unfortunately he had that glass of wine and met a real intruder with his elderly wife in tow who had gone along for the ride, luckily for him the Police took pity and didn't pursue the drink driving but that didn't help his mental health of being confronted with an aggressive burglar. The Police recommended they should use a professional security company in future to carry out key holding and alarm response activities, we wanted to share this with you so you hopefully never have to be in that situation.
Peace of mind for less than the price of a cup of coffee per day, we'll let you decide.

Submitted by Tom from Four Circles Group Ltd