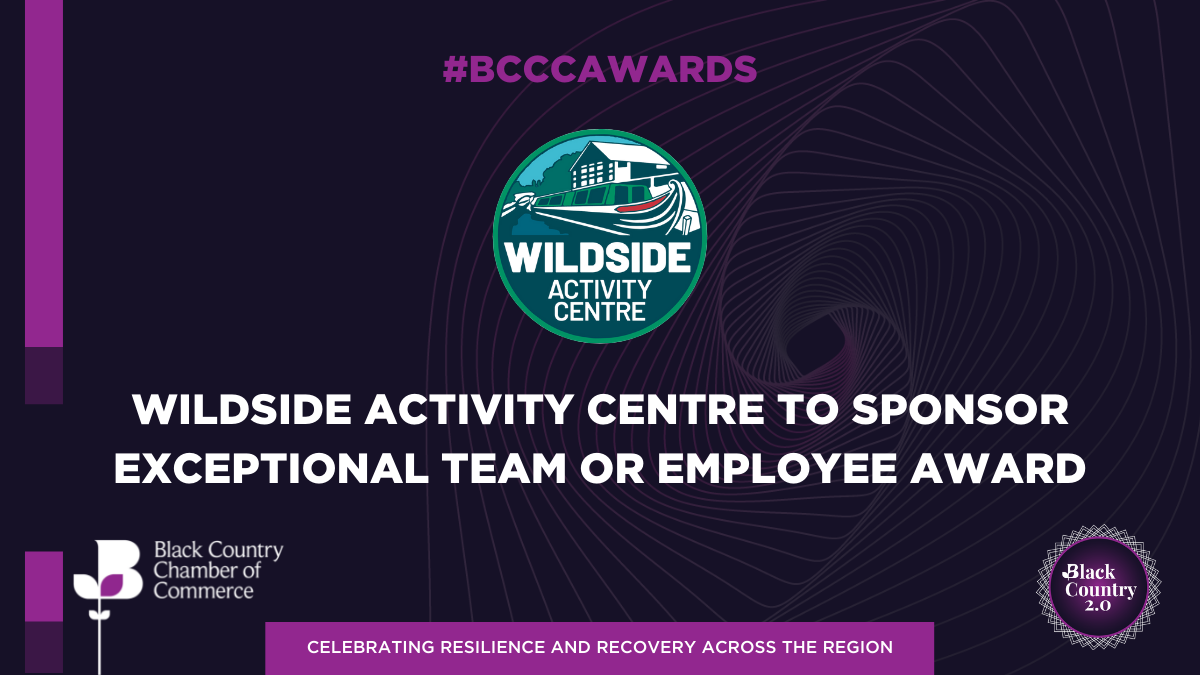 Searching For the Exceptional People as Sponsor Announced for Award
16 Aug 2021
Published in: Black Country Chamber of Commerce News
---
Wildside Activity Centre to sponsor Exceptional Team or Employee category at Chamber Awards
---
The Black Country Chamber of Commerce have today named Wolverhampton based Wildside Activity Centre as sponsors of their Exceptional Team or Employee Award for their annual business awards reception later this year.
Wildside Business Development Manager, Mark Hand said: "It is often said that an organisation's most valuable asset is its people, and the experiences of the past 18 months have undoubtedly reinforced that. The commitment, loyalty and determination of those employed across all sectors has helped to ensure the region's businesses are in a position to bounce back from the difficulties they have faced and emerge, ready to take advantage of the opportunities that now lie ahead.
"However, like any 'asset' it is important that businesses continue to invest in their employees so that they are able to continue to meet these new challenges."
Wildside Activity Centre, situated near Whitmore Reans and in a green oasis on the Staffordshire and Worcestershire Canal, provide enjoyment of the outdoors by offering adventurous and environmental activities, promoting wellbeing and an underlying appreciation of the natural world for all. Their philosophy, to explore and enjoy the outdoors, providing opportunities for learning, challenge, health improvement and personal development, whilst fostering respect for the environment and helping safeguard for future generations.
"Emotional health and well-being have been thrust into the spotlight over the course of the pandemic," continued Mark, "and the benefits of investing in an employee's wellbeing has shown to have tangible results in terms of workers feeling more valued, which is why we are thrilled to be sponsoring this award.
"As a Chamber member we are keen to continue supporting the region's business community by investing in the personal and professional development of its exceptional employees. We believe employee health and wellbeing programmes can help to promote creative, solution-based ways of thinking that will benefit not only individual businesses themselves, but ultimately the region as a whole and all of its various communities."
Employees, or teams working for any business and in any sector, are eligible to apply for this year's Exceptional Team or Employee Award with the winner, or winners, announced at an Awards Reception following the Black Country 2.0 Business Conference on November 11th at Wolverhampton Racecourse.
The region's longest running business support organisation will announce winners this year across eleven categories, all chosen from those businesses and leaders who have faced tremendous adversity in recent months but have shown amazing resilience and ingenuity and achieved astonishing turn around results during the pandemic.
To find out more about this years' award categories and the Black Country 2.0 Conference, click here.
-ENDS-
---
Notes: The Chamber's biggest campaign in its 180-year-old history, Black Country 2.0, is an initiative launched earlier this year to focus the Chamber's lobbying and business support work and helping its members to reboot and rebuild whilst enabling businesses to rebound as they navigate the end of the Brexit transition period and the COVID-19 pandemic.
The Conference, will be held at Wolverhampton Racecourse on the 11th of November, will feature a range of speakers from the business and policy world and a small physical audience, it will be followed by the Black Country 2.0 Awards Reception for shortlisted applications. Both events will be streamed virtually for those unable to attend the physical events.