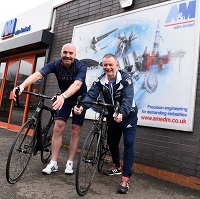 Swansea to Smethwick via the Brecon Beacons
29 Mar 2018
Published in: Member News
---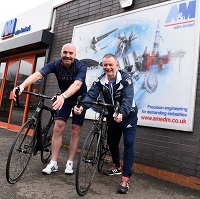 Chris Mason, Account Manager at Smethwick precision engineers A&M EDM and Blind Dave Heeley are among 30 riders training to cycle 156 miles from Swansea to West Bromwich from 5th - 7th April.
Smethwick based A&M are supporting Chris to fundraise for the Albion Foundation's disability sports and education projects. Chris played football for Halesowen and Stourbridge and was a non-league England international. His football wore out his left knee and he was fitted with a new titanium knee two years ago. A&M manufacture precision components for cars, planes and Formula 1, but decided to leave Chris's knee to the NHS.
---
Chris said, "Doctors encouraged me to cycle to strengthen my knee, I joined A&M's cycle to work scheme and bought a new bike in 2017. I've been training by cycling from home in Brierley Hill to A&M in Smethwick. I'm looking forward to joining Blind Dave, Bob Taylor and Brendon Batson on the ride, hoping for Spring weather."
Comments
No comments have been submitted yet.