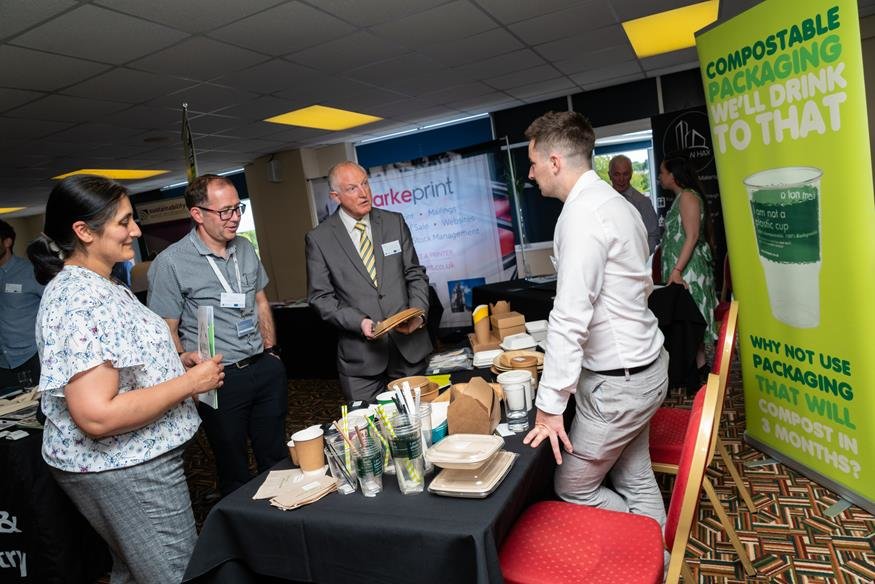 The Black Country Environmental Challenge
29 Aug 2019
Published in: The Chamber Patron Group
---
The Black Country Environmental Challenge
---
The Black Country Environmental Challenge
The Black Country Environmental Challenge hosted by EnTRESS, was held recently at Wolverhampton Racecourse.
Wolverhampton Racecourse, owned by Arena Racing Company (ARC), is the largest racecourse operator in the UK. One of the busiest racecourses in the UK, it boasts around 80 race meets per year thanks to its high performance, all weather, Tapeta track.
Following an introduction by Gail Arnold, Head of The Chamber Patron at Black Country Chamber of Commerce, Wolverhampton Racecourse have worked with EnTRESS and the University of Wolverhampton since late 2018.
Following the introduction by the Chamber, Wolverhampton Racecourse identified several environmental challenges on-site, including replacing 450 000 plastic cups and 62 000 paper cups a year with environmental friendly alternatives, removal of organic waste such as horse manure and bedding (185 tonnes a year), food waste and the retrofit of an 80ft greenhouse.
The aim of the event was to show how Wolverhampton Racecourse plans to become more environmentally friendly by developing their environmental policy with the Reconomy, a waste management company and to network and build new relationships with suppliers and/or customers and help identify possible routes to market.
Small and medium sized enterprises (SMEs) were invited to exhibit their green innovative solutions to the challenges Wolverhampton Racecourse presented. Exhibitors included Green Eco Technologies Ltd, Biopac Ltd, Lodge Cottrell, Canal & River Trust, Birmingham & Black Country Wildlife Trust, Urban Hax, Sustainability West Midlands, Clarkeprint Ltd and Reconomy.
Dr Paul Hampton the EnTRESS Project Director and Associate Head of the School of Architecture & Built Environment at the University of Wolverhampton, kicked off the afternoon with an introduction to EnTRESS and how the project can support SMEs in the Black Country area.
Tom Mills the General Manager at Wolverhampton Racecourse said "Over twelve months ago we started on a journey to review and improve our eco policies, with an honest approach we looked at what we were currently doing and how this has an impact on the environment.
Working closely alongside the EnTRESS and the University of Wolverhampton, we have explored new technology and as a UK first we have trialled an on-site waste machine from Green Eco technologies, converting horse waste combined with waste food into a fuel product.
We have also sourced a fully bio degradable paper cup and are in trials of a bio degradable plastic glass.
We are also now looking at the space we have, to develop conservation areas on site and resurrecting our sixty-foot green house to become more sustainable. We are keen to keep our momentum going forward and would like to leave a lasting legacy on what we can do to help the environment in the future."