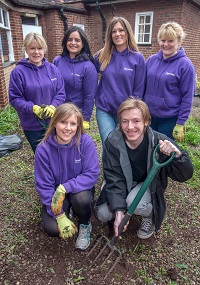 Thursfields Solicitors Help Local Hospice
30 Apr 2018
Published in: Member News
---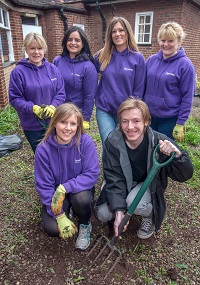 Staff from Thursfields Solicitors' Family team have taken part in a corporate volunteer day to support a Midlands hospice.
Shane Miller, director and head of the family department at the leading Midlands law firm, led her team to support the Mary Stevens Hospice in Stourbridge on Thursday 26 April by helping with maintenance in the grounds and making it a more homely place for patients.
---
Ms Miller said: "We've really enjoyed helping out at the hospice, which is doing such magnificent work for local people in need.
"Here at Thursfields we feel it's important to serve our community and the Family team thought the Mary Stevens Hospice was a very worthy choice in the local area, which sits between a number of our offices."
Ms Miller was joined by other Thursfields' staff from the Family department: associate Hannah Nicholls, solicitor Jasdeep Nagra, PA Nicky Jones and trainee solicitor Charlotte Perry.
The project was planned by Ms Nicholls, who added: "It was fulfilling to take part in the hospice's corporate volunteering day.
"As a firm we strive to make a difference where we can within the community and by spending the day at the hospice we have hopefully helped to do just that for both patients and their families."
Laura Millard, community engagement officer, at the Mary Stevens Hospice, said: "We want send a big thank you to the Thursfields' volunteers for contributing so much time and energy, providing invaluable support to our efforts in improving the quality of life here at the hospice."
Anyone who wants to get their company involved at the hospice can find out more here www.marystevenshospice.co.uk/get-involved/company-engagement/ and can contact Laura on laura@mshfundraising.co.uk.
Comments
No comments have been submitted yet.