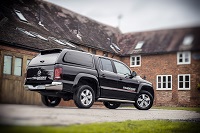 Truckman Continues Relationship with Volkswagen Commercial Vehicles as Approved Accessory Supplier
19 Jan 2018
Published in: Member News
---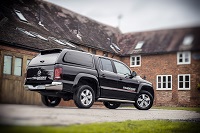 Truckman is celebrating its fourth anniversary as an approved accessory supplier to Volkswagen Commercial Vehicles UK.
The country's leading supplier and manufacturer of 4x4 accessories has marked the milestone with the production of a new brochure and a series of short films about its range of hardtops for the Volkswagen Amarok pick-up truck to support Volkswagen Commercial Vehicles sales professionals and their customers.
---
Truckman has a created a new brochure showcasing the hardtop range, which includes the bestselling Truckman Grand, the stylish and sporty Truckman GLS, the solid sided Truckman RS, and the Truckman Utility, which transforms the truck bed into a mobile workshop.
The brochure, which will be available at all UK Volkswagen Commercial Vehicles dealerships, details the specifications and benefits of the hardtop range.
To supplement the brochure, the videos, which can be found on Truckman's YouTube channel* highlight the company's hardtop range, which have been designed for the Volkswagen Amarok for leisure and commercial applications.
In addition, Truckman has produced a pair of fitting videos to assist dealerships and customers expertly fit the hardtops, which is delivered by experienced technicians at the company's factory in Dudley in the West Midlands.
The Grand, for example, features, tinted pop-out side windows and remote central locking, LED interior light and is ideal for a range of Volkswagen Amarok owners from families through to outdoor adventurers looking for a stylish and secure accessory to maximise the storage capacity of the pick-up.
For commercial users, the Truckman Utility has become synonymous with industries requiring access to off-highway locations such as gas and electricity, water, track side and telecommunications. Converting the Volkswagen Amarok into a mobile workshop, field-based engineers benefit from a large-capacity space, which allows for the fitting of racking for the storage and transportation of equipment and tools.
Mike Wheeler, Executive Chairman of Truckman, said: "We are exceptionally proud to have reached this milestone in our relationship with Volkswagen Commercial Vehicles UK. We have developed our accessory range to complement the exceptionally high-quality of the Volkswagen Amarok and meet its customers' high expectations, which we are delighted are recognised as being Volkswagen-approved.
"The short films we have produced, together with the brochure, will be really beneficial for Volkswagen sales staff advising customers and enable them to specify the most suitable hardtop solution to meet their needs."
Liz Richardson, Service and Parts Product Manager from Volkswagen Commercial Vehicles UK, said: "Our relationships with our approved accessory suppliers are an important part of providing our customers with the best possible service and to get maximum benefit from their vehicle purchase. The new resources created by Truckman will be helpful for our staff and customers and are a great way to highlight the benefits of its hardtops."
*Truckman YouTube channel can be found at: www.youtube.com/AutoStylingUK
PDF of the Truckman Brochure can be downloaded from: http://ow.ly/wze230hR5GM
Comments
No comments have been submitted yet.