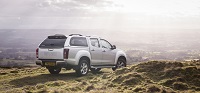 Truckman Marks 15th Anniversary of Isuzu Relationship with New Hardtop Innovations
04 Jun 2018
Published in: Member News
---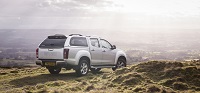 Truckman is celebrating 15 years as an approved accessories supplier to Isuzu, highlighting its latest innovations to support customers of the award-winning D-Max pick-up truck.
In this anniversary year Truckman has produced a special publication that showcases the range of approved accessories it manufactures and supplies through the Isuzu dealership. This includes a comprehensive range of hardworking commercial canopies and stylish, luxury leisure tops, which offer an additional security and storage capabilities to the trusty D-Max.
---
Available in all Isuzu dealerships, the publication details the specifications and benefits of the Truckman hardtop and accessories range.
Notably, for the newest generation D-Max model, Truckman has developed its new cab-high commercial and luxury hardtops to feature a new tailgates and over rail, hidden seal design to enhance the seamless lines between the canopy and the pick-up truck bed sides.
The range of accessories now also includes the new Pro-Lift Tailgate Damper, which reduces the effective weight of the tailgate by 95 percent. Gas struts and a specially-designed spring system allows D-Max users to easily and gently open and close the tailgate with one hand.
To supplement the publication, Truckman has also produced a series of informative short films about its range of Isuzu-approved hardtops and accessories to support dealership sales professionals and their customers.
The films, which can be found on the Truckman YouTube Channel (www.youtube.com/AutoStylingUK) not only showcase the range, but include instructional hardtop fitting videos, which is presented by experienced technicians at Truckman's factory in Dudley, West Midlands.
Mike Wheeler, Executive Chairman of Truckman, said: "We are exceptionally proud to have a long-standing and successful partnership with Isuzu, which is entering its 15th year. Working closely we produce a range of accessories that enhance the practicality and styling of the D-Max, which has become one of the most popular pick-ups in the UK. Our new Isuzu publication and short online films demonstrates how we are constantly evolving our products to complement the progression of the D-Max and the changing requirements of its customers."
Neil Scott, National Fleet Sales Manager at Isuzu UK, said: "Establishing long-term and trusted relationships with UK accessory suppliers is a key component of ensuring the Isuzu brand meets the needs of our core fleet, retail and future customer base. Truckman is synonymous with the pick-up market and its experience and expertise is a valuable asset to Isuzu and our customers who have benefited from their accessories for the past 15 years."
Comments
No comments have been submitted yet.