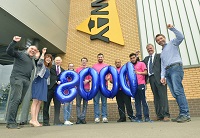 University of Wolverhampton Students Volunteer Over 8,000 Hours to Wolverhampton Youth Zone
12 Jun 2018
Published in: Member News
---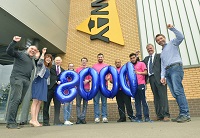 The Way Youth Zone would like to thank students from The University of Wolverhampton who have been volunteering an incredible number of hours to The Zone over the past two years.
The Way opened its doors in January 2016 and have already had 136 volunteers from the University participate within the volunteering programme. In total, these students have completed 8,387 hours of their time and commitment to engaging with the young people. One student volunteer, Ffion Jones, has alone completed over 670 hours. On an average most volunteers from the University complete just over 60 hours per student.
---
The University of Wolverhampton has over 19,560 students with over 500 courses to choose from delivered within 18 Schools and Institutions. The University of Wolverhampton's attractive offering to students from around the world includes 96% graduate employability (Destination of Leavers of Higher Education survey 2016), teaching informed by world- leading research strong business links, and state-of-the-art facilities.
Volunteering at Wolverhampton Youth Zone is a way to support the local community, a way to enhance student's skills and have a lot of fun along the way.
The Way Youth Zone has over 100 incredible volunteers across a wide range of projects to make sure they deliver a world-class service to Wolverhampton's young people. Volunteering or mentoring at The Way Youth Zone enables individuals to be at the heart of a world class project that will help thousands of Wolverhampton's young people's journey through life.
The Way has previously recruited Invictus Gold Medal winner Andy Roberts as a volunteer at The Way and we welcome many more.
The University of Wolverhampton are amongst a number of Founder Patrons who support the Wolverhampton Youth Zone and their initiatives. Support and volunteers from organisations such as The University of Wolverhampton enables the youth zone to provide Wolverhampton's young people with somewhere warm, creative and inspiring to go and share in new and exciting activities with their peers in a safe environment. The Way currently has 3,000 members and welcomes up to 200 young people every night.
Andrew Walker, Volunteering Manager at The Way said, "As a whole, The University students who volunteer have saved the Youth Zone around £65,000 throughout the two years. This is an amazing achievement and it's so inspiring to see so many students dedicating their time and commitment to volunteering here at The Way - making a huge difference to young people's lives."