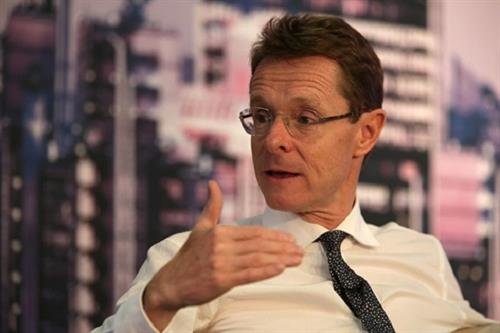 West Midlands Mayor, Andy Street Talks to Prosper Magazine
05 Jun 2020
Published in: Black Country Chamber of Commerce News
---
West Midlands Mayor, Andy Street Talks to Prosper Magazine
---
West Midlands Mayor, Andy Street Talks to Prosper Magazine
After several long weeks of lockdown, as a region we have moved into a new phase.

The Government has set out its roadmap to exit the lockdown.
That means cautiously encouraging a return to the workplace for those who cannot work from home and gently easing lockdown restrictions, while still emphasising the vital importance of social distancing in keeping down the infection rate.
We face a considerable economic challenge.
The Office for Budget Responsibility has predicted a 35% hit to national GDP, with the possibility that the effect on economic growth could be felt for many years.
In the West Midlands, 79% of businesses in the area have seen a drop in their income. When coronavirus hit, the West Midlands was in a strong economic position.
We had record employment figures and the fastest growth anywhere outside London.
However, our economic mix leaves us vulnerable.
Research highlights our dependence on manufacturing and high levels of business tourism, as well as a significant economic contribution from universities, all of which are affected.
Government measures to put large parts of the economy into hibernation – furloughing staff, business rates deferrals, grants and loans – were vital to protect our businesses.
From the point of view of the West Midlands, the Government has made the right judgement to move now.
Having declared that the peak of the outbreak is now passed, we must start plotting how to reawaken our economy in a safe way.
That means progressing forward with small, sensible steps towards establishing a new normal – steps that must be conditional, based on the data provided by the scientists who are watching the evolution of the outbreak.
In his address to the nation the Prime Minister announced a cautious and conditional easing of lockdown restrictions.
This was followed by a considerable amount of guidance. That guidance is rightly framed with practical measures to enable us to move forward.
However, we all accept this is an unprecedented crisis, which has affected all facets of our daily lives. It is simply not possible for Government guidance to cover every situation and every individual in all circumstances. It is guidance, not regulation.
From the very start of this outbreak, the British people have shown that they have the spirit, discipline and unity to handle the most serious health crisis we have faced in generations.
From the hundreds of thousands who volunteered to help the NHS, to the self-motivated groups supporting the vulnerable in every community, people have shown that they are willing to play their own, personal role in defeating coronavirus.
The weekly applause for the NHS and key workers - and a million spontaneous acts of community kindness - show that, while the British people may have been locked away for nearly two months, they are not passively awaiting instruction.
As is always the case when our nation faces adversity, the British people want to play their part.
That is why I believe, as we begin the delicate process of easing the lockdown, the Government is right to trust the British people to weigh up the guidance given and apply it to their own circumstances.
This approach is about trusting in our traditions of fair play and common sense.
That innate sense of fair play means that, as we welcome additional freedom into our individual lives, we will not abuse those freedoms to imperil others.
What's more, I know the Government can rely on the common sense of Black Country businesses and employers to plan their own route back to safe operation.
They know their staff, their customers and what is needed to get their businesses up-and-running better than any Whitehall mandarin.
After all, throughout the lockdown we have seen many different industries adapt to maintain safe operation, from supermarkets to warehouses, and from big factories to high street butchers.
By staying open, businesses of all kinds have shown that they understand the responsibility they have to their employees, clients and the public at large. Now, more and more businesses are starting to return, as return they must.
This Government has provided unprecedented fiscal support for businesses, from tax deferments to the extended staff furlough scheme, protecting firms as the economy hibernates.
Now, as we move to the next phase, it is right to give them the guidance they need without unnecessary regulation. I'm confident we can rely on the people who built the businesses of the Black Country to shoulder their responsibility to help restart the economy safely.
Here in the West Midlands we are seeing construction resuming, the housing market restarting and our all-important car industry reviving – with 2,000 people returning to work at Jaguar Land Rover in Solihull.
Even those businesses that are furthest away from re-opening are planning how they will do so.
From huge venues like the National Exhibition Centre to high street hair stylists and restaurants, bosses and owners are now considering how they will reopen their doors when Government guidance tells them the time is right.
That timing, as always, will be driven by the scientists and medics who have advised the Government throughout the outbreak.
They, in turn, are led by the data coming out of our universities and hospitals as we work to avoid a second wave of the virus that would undo all that we have achieved through the lockdown.
The NHS Nightingale Hospital at the NEC stands ready should there be a second wave. As I write, in our region, the R rate is now 0.68 - considerable progress for a densely-populated region that has been badly affected by the outbreak.
Another ready measure of progress in the West Midlands is the daily infection rate - now regularly under 50 – representing less than 2% of the country.
The Government has been criticised by some, who demand detailed instructions to direct people back to normality.
They underestimate British business and the British people - and their willingness to play their own personal part in ending this crisis.
There is no doubt that we face huge challenges as we awaken from so many weeks of lockdown.
The country has never been through this before. With clear guidance and diligent planning, we can allow the economy to open up as soon as is safely possible.
To read the latest edition of Prosper Magazine, the region's longest running business publication, and to register for a copy direct to your inbox, log onto: www.prospermagazine.co.uk