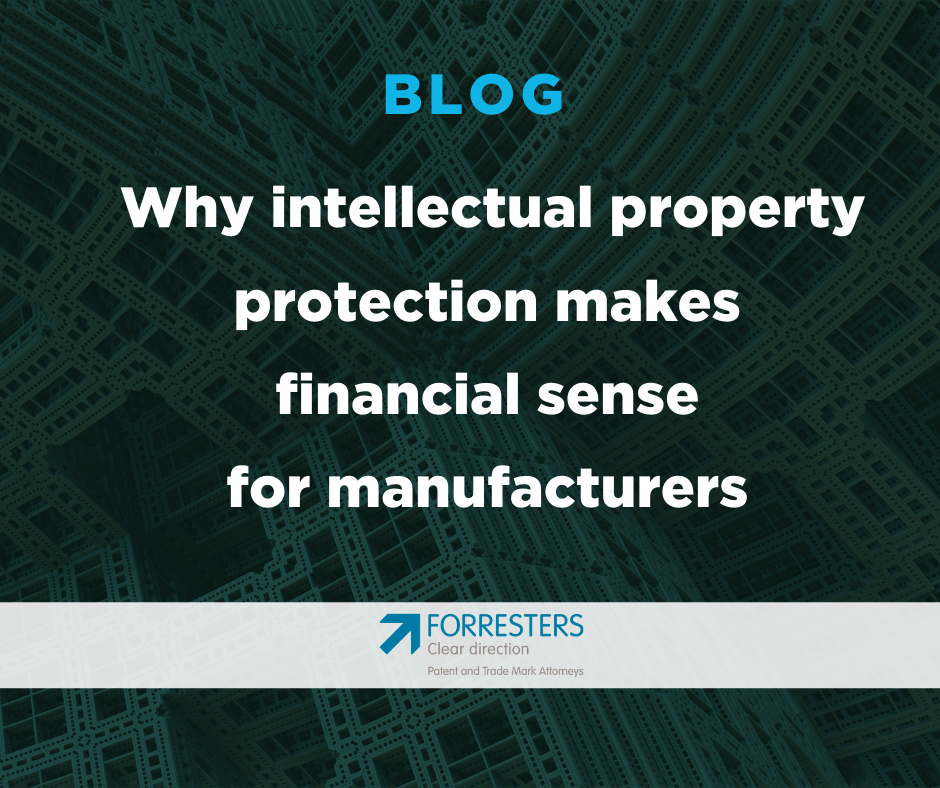 Why intellectual property protection makes financial sense for manufacturers
08 Aug 2019
Published in: Blog
---
Manufacturing is a true success story for our region and it's something that we should not only be proud of, but seek to protect.
---
By Matthew Shaw, Equity Partner at Birmingham-based Forresters, the specialist patent and trade mark firm and sponsor of the Black Country Chamber of Commerce's Black Country International work.
The Black Country and wider Midlands region are home to some 14,000 manufacturing and engineering companies, which design and produce high-quality products that are sold around the globe.
Manufacturing is a true success story for our region and it's something that we should not only be proud of, but seek to protect, particularly when it comes to ideas, inventions and designs to prevent them from being appropriated by rivals. Simply put, having the right intellectual property (IP) protection in place safeguards the investment made by manufacturers.
It's not just products that need protecting with patents, but also the way they are designed and manufactured. Engineering companies and manufacturers are often aware that they can obtain patents for new products, but many assume they cannot protect their production methods. The result is that many companies fail to protect bespoke production and logistics processes and software, due to this misplaced perception.
And what about the 'look' of a product? In today's design-conscious environment, the ability to protect the appearance of original products can be crucial to the success of a business. Design registrations can be very useful in preventing others from commercialising products that have the same or a similar appearance.
Think of it this way, you will inevitably invest in security measures to protect physical items from being stolen from your premises. Well, IP protects the ideas, designs and processes from being stolen.
IP is a complex area of law to understand, which can be a stumbling block for manufacturers who find it difficult to recognise what, if anything, in their manufacturing process is open to risk. Getting advice at the earliest opportunity is sensible.
While there are different types of protection available, for the region's manufacturers, it's patents that may be most relevant to defend their differentiator. Trade marks may also be valuable as these help companies protect brand identity.
There can be an assumption that IP is a waste of effort and money but, if your business has invested considerable time, resources and funding in creating something truly unique, whether that's a design or a product, it absolutely warrants protection. Your innovation could give your business a competitive advantage, make you more of an attractive investment, and can even be used as a security for future loans.
All too often innovation can and will be stolen and replicated, so safeguards are essential. In a lot of cases, companies don't realise the value of IP protection until it's too late, and something has already gone wrong. Usually, that is when a competitor brings an almost identical product to market, reaping the rewards of your hard work.
If your ideas get into the wrong hands before you have taken the appropriate action to protect them, you could find your intellectual property rights seriously compromised - or even lose them entirely.
Protecting against imports
It's not just domestic threats you need to protect against.
A major problem for the UK is protecting against Chinese copy imports. In September, a report by the European Union revealed that China remains the biggest source of counterfeit goods imported into the EU.
The report revealed that more than 31 million products were confiscated by customs officials during 2017, of which 73 percent originated in China. It was estimated that the total value of the items would be 580 million euros (£512 million), if they were authentic.
The knock-off products were confiscated for suspected violations of copyright, patents, and trademarks.
Avoiding IP infringement
Then of course, you need to avoid infringing someone else's IP, as this could result in a legal case bringing its own difficulties. Not only can legal battles be costly, but far-reaching repercussions could include damaging your reputation with clients and credibility within your industry.
Before you spend any money on research and development of a new product or process, err on the side of caution and ask an IP lawyer to check out the competition. Yes, it adds an additional cost to the project, but it's little or nothing in comparison to the losses you could suffer in the event of a breach.
Basic steps you can take to avoid IP problems include:
• Confidentiality agreements. There will probably be a number of people involved in designing a new product or process, including some third parties. Asking employees and any other involved parties to sign a confidentiality agreement will help ensure key information remains safe. This is essential before IP protection has been applied for as any disclosure could jeopardise your claim to that.
• Securing hard-copy and digital information. This should apply to all your organisation's information and data, but take extra care that any new designs, or even initial ideas, are kept locked away, either physically or with password protection for digital content.
• Take special care when trying to sell or license an invention, idea or design. Whilst it would be nice to think we can trust potential business partners, there have been instances where agents or potential business partners have been unscrupulous and passed inventions off as their own.
• Take some action as early as you can, as delays in submitting IP applications can sometimes be fatal.
Ultimately, if you invest your time and energy into making something truly unique, it makes clear financial and business sense to do everything you can to protect it.
Get in touch: mshaw@forresters.co.uk - 0121 236 0484