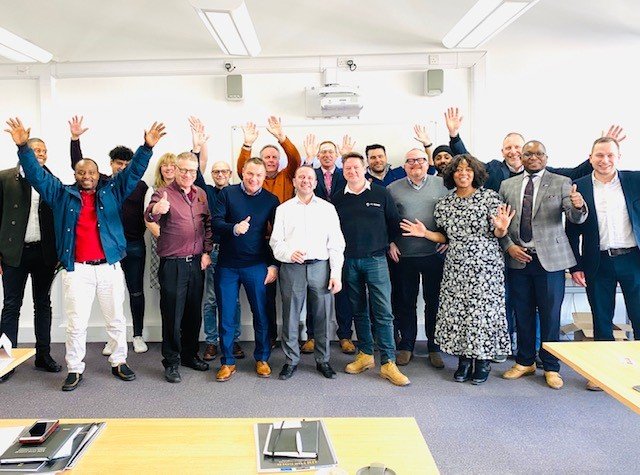 WOLVERHAMPTON COUNCIL'S AIM FOR GOLD PROGRAMME TEAM SHARES GROWTH PLANNING TIPS
04 Mar 2020
Published in: Member News
---
The City of Wolverhampton Council's Business Development Team has since June last year supported 80 small Medium Enterprises (SMEs) with their growth plans under the ERDF part-funded AIM for GOLD Business Growth and Grant Programme.
---
The City of Wolverhampton Council's Business Development Team has in the last few weeks delivered a number of workshops as part of the ERDF part-funded AIM for GOLD Business Growth and Grant Programme.
Participants on the programme have access to several 'free' workshops covering thematic areas such as: growth planning, financial management, marketing, workforce development, innovation and reflective leadership. The first cohort comprising of 44 companies was launched last June and the team have since then launched a second cohort comprising of 36 companies.
The Council's Business Development Team have since last June have supported over 80 SMEs located in the Wolverhampton resulting in projected 70 new jobs and a projected total invested of about £2M by the third quarter of this year. Other metrics that the AIM for GOLD Programme critically looks at are environmentally friendly business practices, staff upskilling, adoption of modern technologies (Industry 4.0) and strategies to improve productivity.
For Wolverhampton base SMEs in the manufacturing, creative, digital, environmental technologies and business services sectors interested in joining our third cohort commencing in July please send an email to business.development@wolverhampton.gov.uk
or visit http://www.investwolverhampton.com/aimforgold/.
In the meantime, please find below tips on business growth planning:
Ø Establish a value proposition and identify your ideal customer
For your business to sustain long-term growth, you must understand what sets it apart from the competition. Identify why customers come to you for a product or service. Is that customer your ideal customer?
Ø Define your key indicators.
Changes must be measurable. If you're unable to measure a change, you have no way of knowing whether it's effective. Identify which key indicators affect the growth of your business, then dedicate time and money to those areas.
Ø Verify your revenue streams.
What are your current revenue streams? What revenue streams could you add to make your business more profitable? Once you identify the potential for new revenue streams, ask yourself if they're sustainable in the long run.
Ø Analyse your competition.
Look toward similar businesses that are growing in new, unique ways to inform your growth strategy.
Ø Focus on your strengths.
Sometimes, focusing on your strengths rather than trying to improve your weaknesses can help you establish growth strategies. Reorient the playing field to suit your strengths, and build upon them to grow your business.
Ø Invest in talent.
Your employees have direct contact with your customers, so you need to hire people who are motivated and inspired by your company's value proposition.
Submitted by Hannington Gondwe from City of Wolverhampton Council