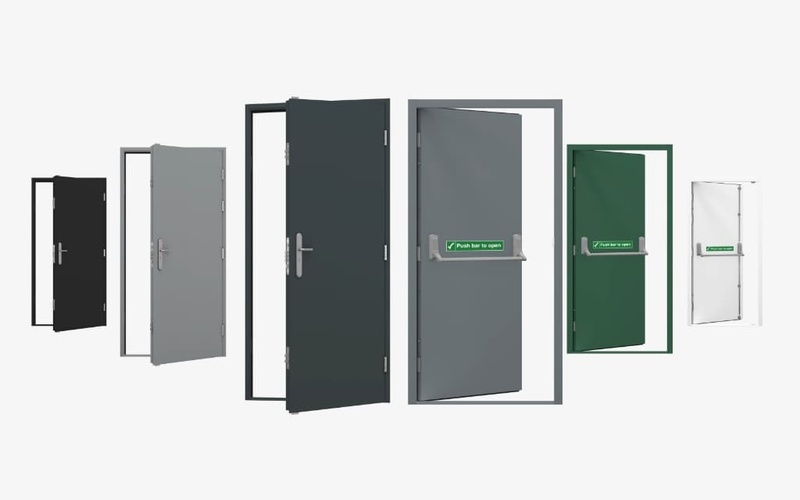 Latham's Launches New Line of Stock Colour Personnel & Fire Exit Doors
20 Oct 2023
Published in: Member News
---
Latham's is proud to introduce a brand-new range of Steel Hinged Personnel Doors and Steel Hinged Emergency Exit Doors.
---
Available in our 6 most popular colours, they are an ideal security upgrade to your property and have been introduced to suit the more traditional PA door structural opening sizes.
Due to popular demand, Latham's Personnel doors have been designed as a more reasonably priced steel door version of the existing Budget Steel and Security Steel Doors. Built to the same spec as these existing models, the major difference between these Steel Personnel Doors and their alternatives is that these are available in 2 new sizes to suit 900 × 2100 and 1000 × 2100 openings. But the other differences come in the speed of delivery and available colours from stock.
These Personnel Doors are available in 6 colours from stock as standard for a fast turnaround in delivery. These options include;
Latham's White
Anthracite Grey
Goosewing Grey
Merlin Grey
Juniper Green
Jet Black
What is a Personnel Door?
There are a couple of definitions for what a Personnel Door is. They are known as either Personal Access Doors or Pedestrian Access Doors. These PA Doors are purely intended to allow access to enclosed spaces for authorised people. Ideally suited for use in both commercial and residential premises in a range of situations, such as a Garage Side Door or for added entryways. These doors are easy to install and flexible enough to be used for a wide range of applications.

Personnel Access Doors
Our Steel Hinged Personnel Doors come in both Budget and Security models, the latter using thicker gauge steel, an insulated core and 4 stainless steel heavy duty ball bearing hinges – designed for support and added strength so that your property will benefit from increased security.
Emergency Exit Doors
These two options have also been built as Emergency Exit Doors available in the same range. They are fitted with Exidor single-point or 2-point push bars as standard with a quick panic release, so you can be assured that your fire escape will open in the event of an emergency.
Secure Doors for your Home or Business
All these doors are fitted with our trademark HOOPLY 19-point locking system, and available with an additonal PAS 24 Certification upgrade, so you can make security for your property a priority. As with all of our steel security doors, these have a range of upgrades and genuine accessories available to purchase to further improve security.
A Huge Range of Customisation
Our personnel door range are also fully customisable. They can be re-powdercoated to any colour and have a range of security upgrades and accessories to personalise your door to your own requirements. Featuring weather and draught-proof seals included as standard, these doors can be used internally or externally for almost any purpose.
Available Additions Include:
Frame extensions
Cylinder upgrades
Handle options
Louvre Panels
Door Viewers
Letter Box
Glazed Panels
Security Trim
Push & Kick Plates
Rain Deflectors
Door closers & Stays
Weather Seal
Finger Protectors
Outer Access Devices
Tower Bolts
Available from Stock for Faster Delivery
Our warehouse carries a large amount of these stock colour doors, meaning we can immediately despatch for fast-track next-day delivery if you need your new door in a hurry, or you can also opt for same-day collection from our West Midlands site. This makes these new door options a perfect solution for last-minute projects or replacement after damage to existing doors.
We supply the highest quality steel doors at the UK's most competitive prices meaning our personnel door range offers a superior standard at an affordable price.
Submitted by Luke from Latham's Steel Security Doorsets Ltd